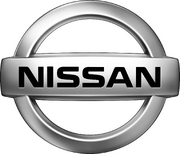 The Nissan Motor Company Ltd. or simply Nissan is a Japanese automobile manufacturer founded in 1933 and based in the Nishi-ku prefecture of Yokoyama, Japan. Today, it is the fourth largest car company in the world behind Toyota, Volkswagon and GM.
The car company is best known for making the Z series sports car, the Leaf electric car, and the GT-R; a popular turbo V6 sports car that has the power and speed of a V8 model.
Nissan was the major sponsor of the Ultraman Ginga S series and two of its electric vehicle models were modified to be UPG vehicles, a Nissan Leaf car and a Nissan e-NV200 van. The vehicles were shown at the 2014 Tokyo International Toy Show to promote Nissan's electric car line and the then-new TV series.
External Links
Ad blocker interference detected!
Wikia is a free-to-use site that makes money from advertising. We have a modified experience for viewers using ad blockers

Wikia is not accessible if you've made further modifications. Remove the custom ad blocker rule(s) and the page will load as expected.