| | |
| --- | --- |
| | This article is about a series entry (the 3rd) in the Ultraman franchise. |
Ultraseven
Number:
2
Number of episodes:
49
First episode:
The Invisible Challenger
Original airing:
October 1, 1967 - September 8, 1968
Production Order
previous
Ultraman
next
The Return of Ultraman
Ultraseven (ウルトラセブン, - Urutorasebun) is the third television show in the Ultra Series and a direct sequel to Ultraman which debuted on October 1, 1967. It is considered to be the most popular entry in the franchise and one of Japan's finest sci-fi programs ever made due to its use of social commentary and special effects from that era. Due to the popularity of the show, the titular character has become a recurring figure in the series, making multiple appearances over the years.
Production
to be added
Plot
Characters
Heroes
Ultra Garrison
Monsters
Capsule Monsters
Other Monsters And Aliens
Supporting Characters
Arsenal
Episodes
Main article: Ultraseven Episodes
Video Release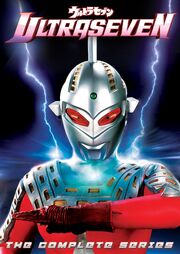 In 2012, US company Shout! Factory released a 6 disc DVD box set containing every episode of the original series (with the exception of the notoriously banned episode 12 due to censorship.) The set features an Interview with the Show's Cast (The Ultra Garrison,) who discussed working on the set (the interview itself was documented before Shōji Nakayama's Death and Shinsuke Achiha's Suicide) as well as a booklet by August Ragone which gives details on the behind-the-scenes of the series. [1]
It should be noted however, that while Shout Factory acquired the rights to release the Ultraseven series (as well as Ultra Q) from Golden Media Group. Golden Media Group, in turn, acquired the rights from the Thai company, Chaiyo Productions, a company in which has had several legal battles against Tsuburaya Proudctions over the rights to various Ultraman characters and series'.

Toyline
Video Games
Notes
External Links
References
Ad blocker interference detected!
Wikia is a free-to-use site that makes money from advertising. We have a modified experience for viewers using ad blockers

Wikia is not accessible if you've made further modifications. Remove the custom ad blocker rule(s) and the page will load as expected.